"Cause girls go crazy about a sharp dressed man!" Well I say, people also go crazy about a sharp dressed woman too. Especially if said woman is wearing a blazer and/or suit. I don't know why, but lately I have been on a huge suit kick. Actually, I've been loving blazers and suits for a very long time, but I always felt like (as a plus sized woman) they never looked good on me. I thought that masculine pieces like blazers and suits were meant for women with a more androgynous frame, but boy way I wrong!
Honestly it all started with my mom going through her closet and giving me a pair of navy pinstripe pants with a matching vest. She didn't want it anymore, and thought I might want to try it on. And there it hung in my closet for weeks until I remembered to try it on and I fell in love. I felt powerful and beautiful and I wanted to wear it immediately. So I wore it for my birthday, and thus began my newfound love for suits.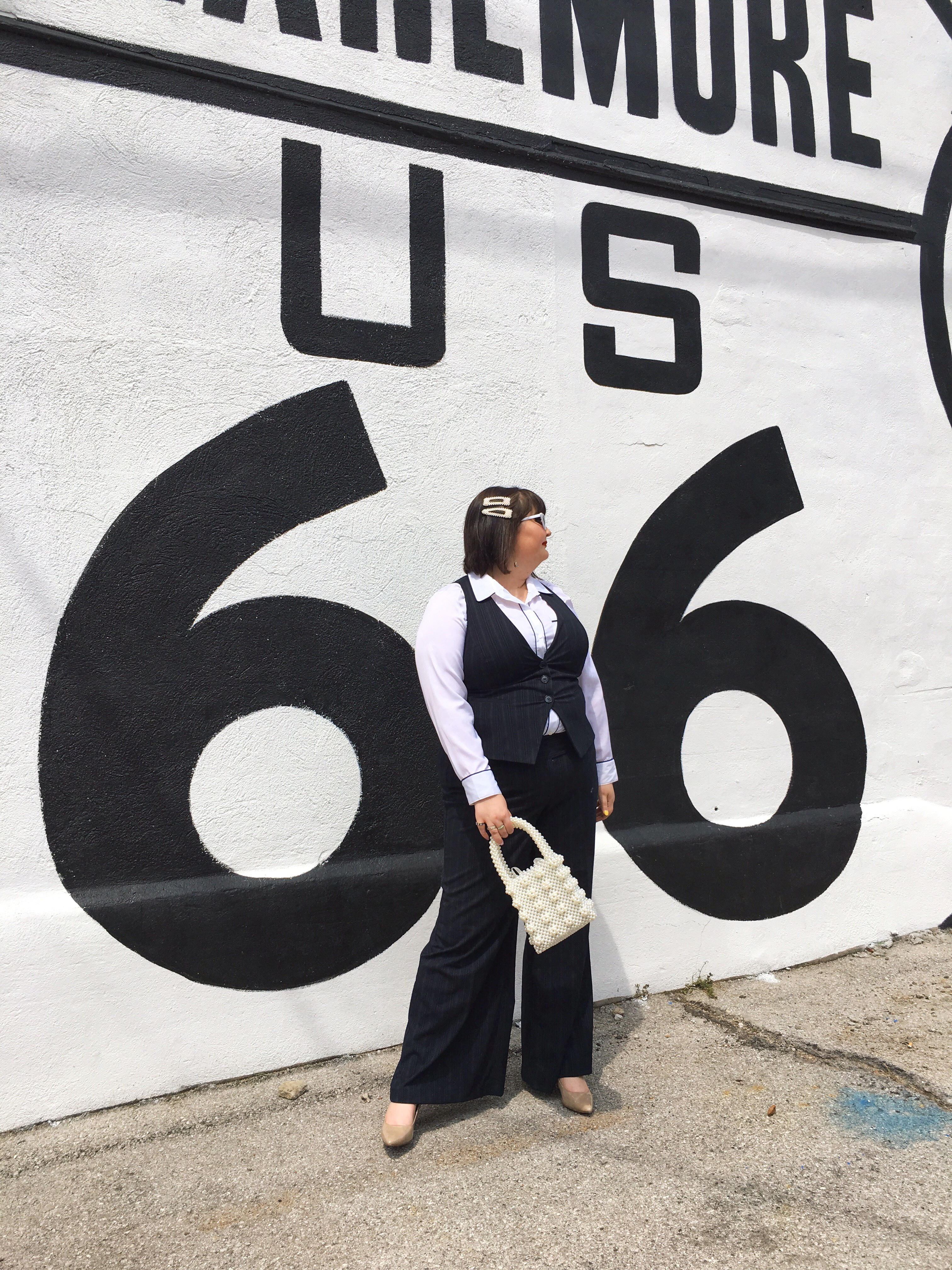 The next day I went shopping with my family, because I had birthday money that was burning a hole in my pocket. Miraculously, I found two very different but equally amazing suits and I ended up taking both of them home. Today, I am going to be showing you guys how versatile suits can be by creating a total of six outfits with my two new suits.
Of course the most obvious way to wear a suit is to wear the two pieces together. It's a no-brainer, right? Although that may seem easy, I wanted to show two very different ways to wear a full on suit and two different ways to wear them as separates: dressy vs casual.
Wearing Them Together-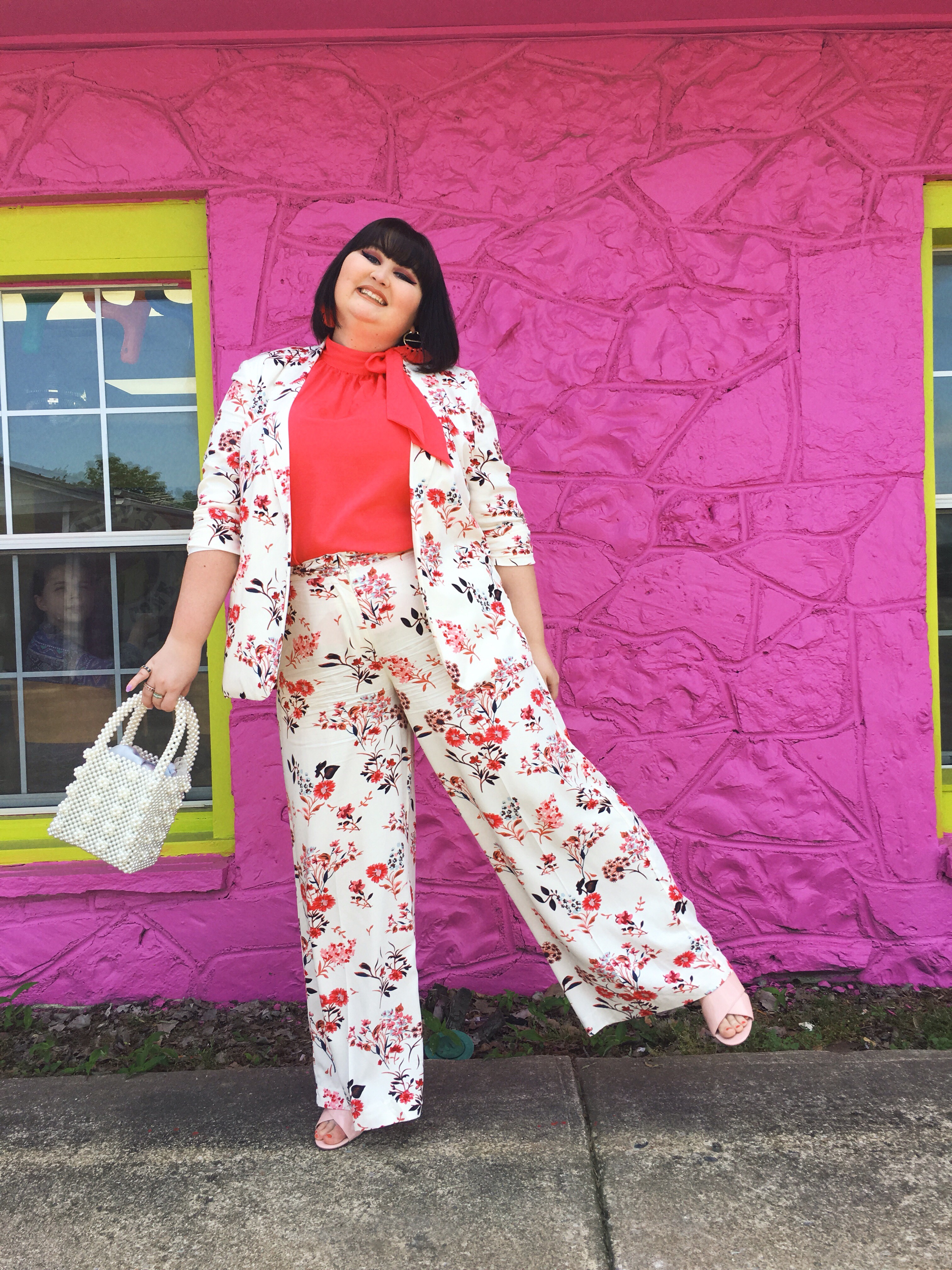 Dressing it up: The best way to make a statement in a two piece suit is to pick a color palette, and stick to it! This makes the look more cohesive and more impactful. Plus, you look like you actually know what you're doing! A pair of statement earrings, shoes, and bag complete the look, and make it seem intentional, and makes you look confident.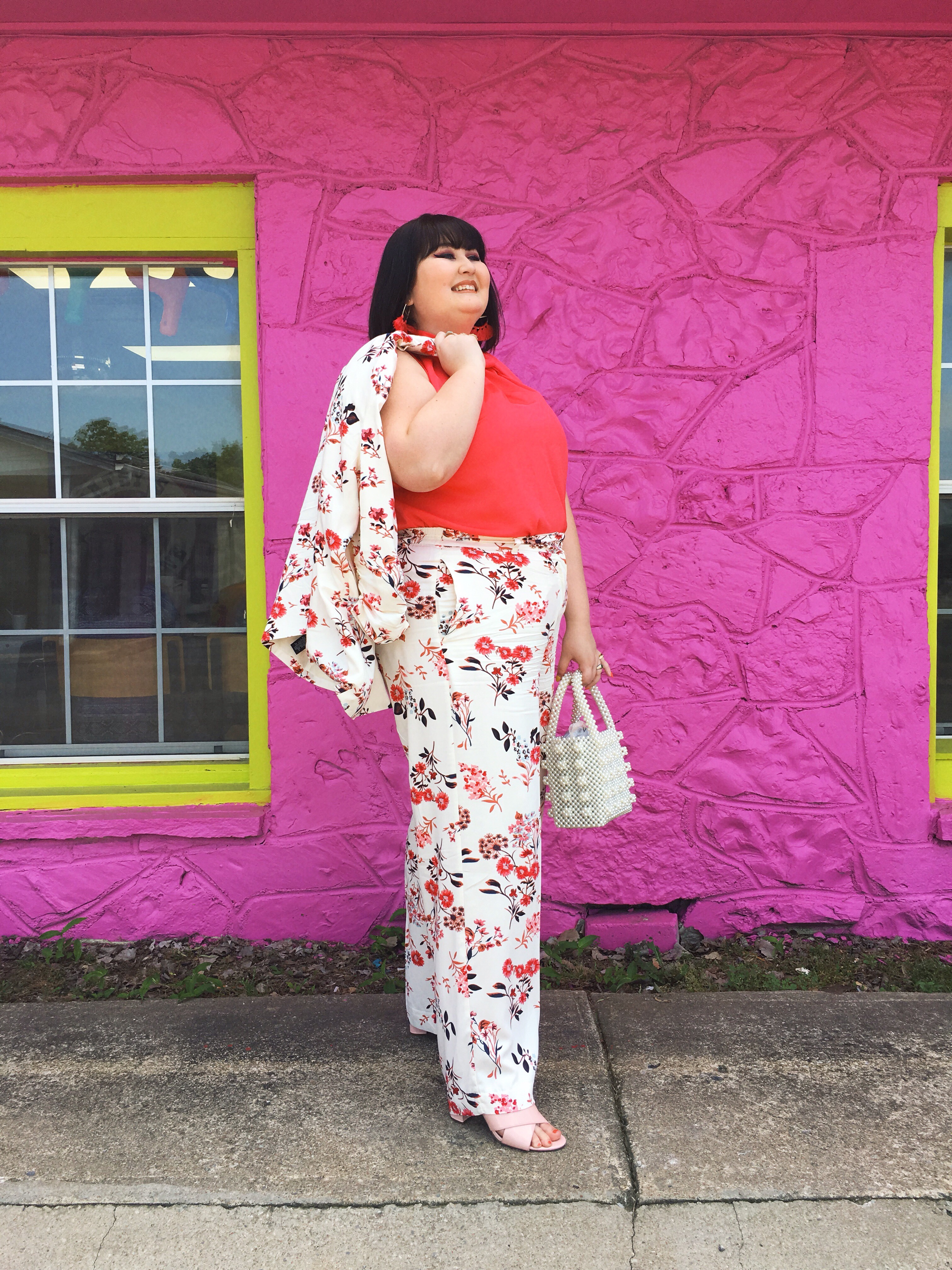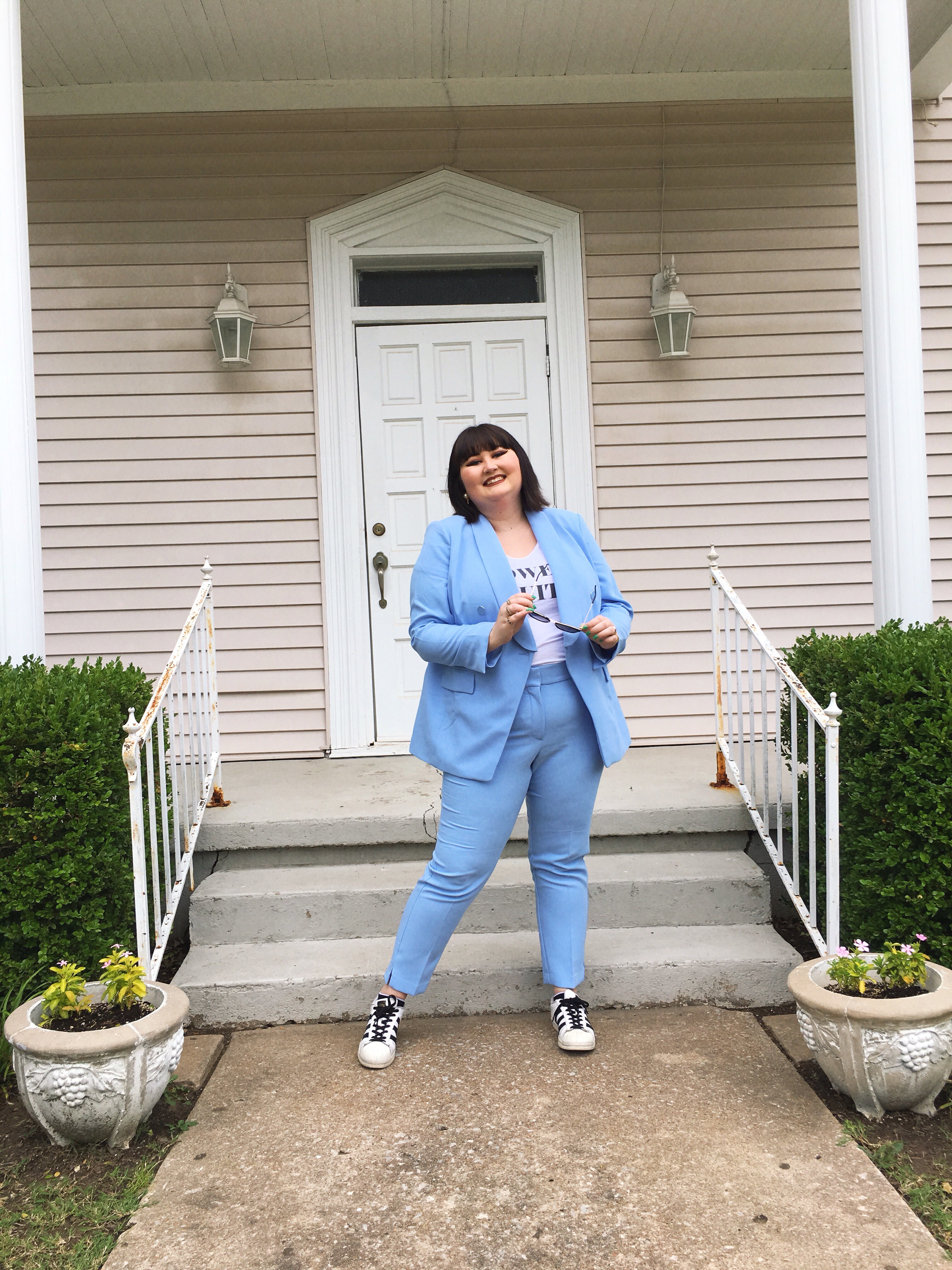 Dressing it down: It may not seem like the most obvious choice, but a suit and sneakers are a match made in heaven. When I lived in New York you would see women walking around in their 9 to 5 wardrobe and tennis shoes, most likely to change into their nice shoes once they got where they were going. But for me, New York re-ignited my love for sneakers and comfortable shoes. Forget changing into heels, I love the juxtaposition of making a suit casual. Just throw on a graphic tee and some sneakers and you have yourself an outfit!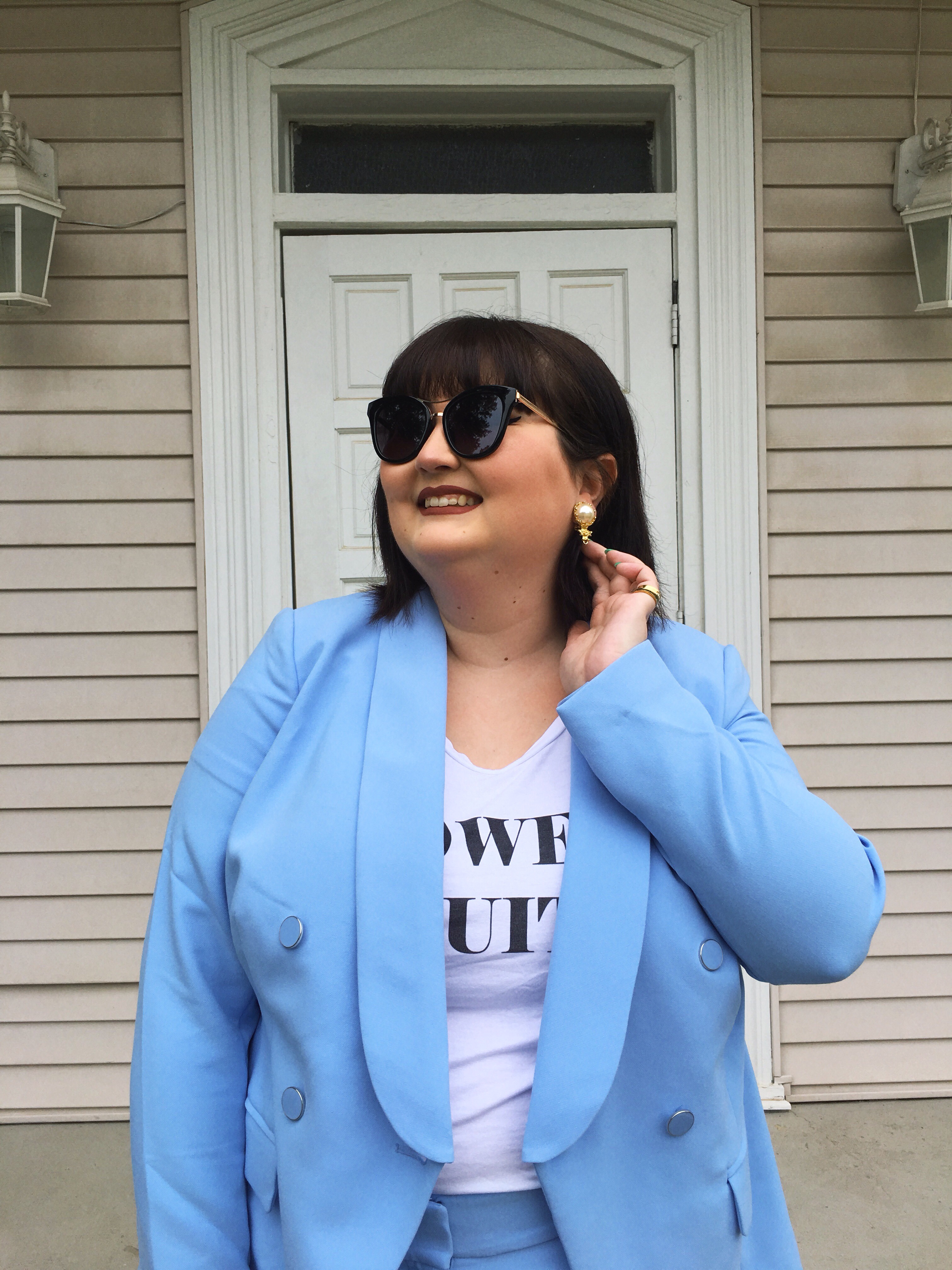 Wearing Them as Separates-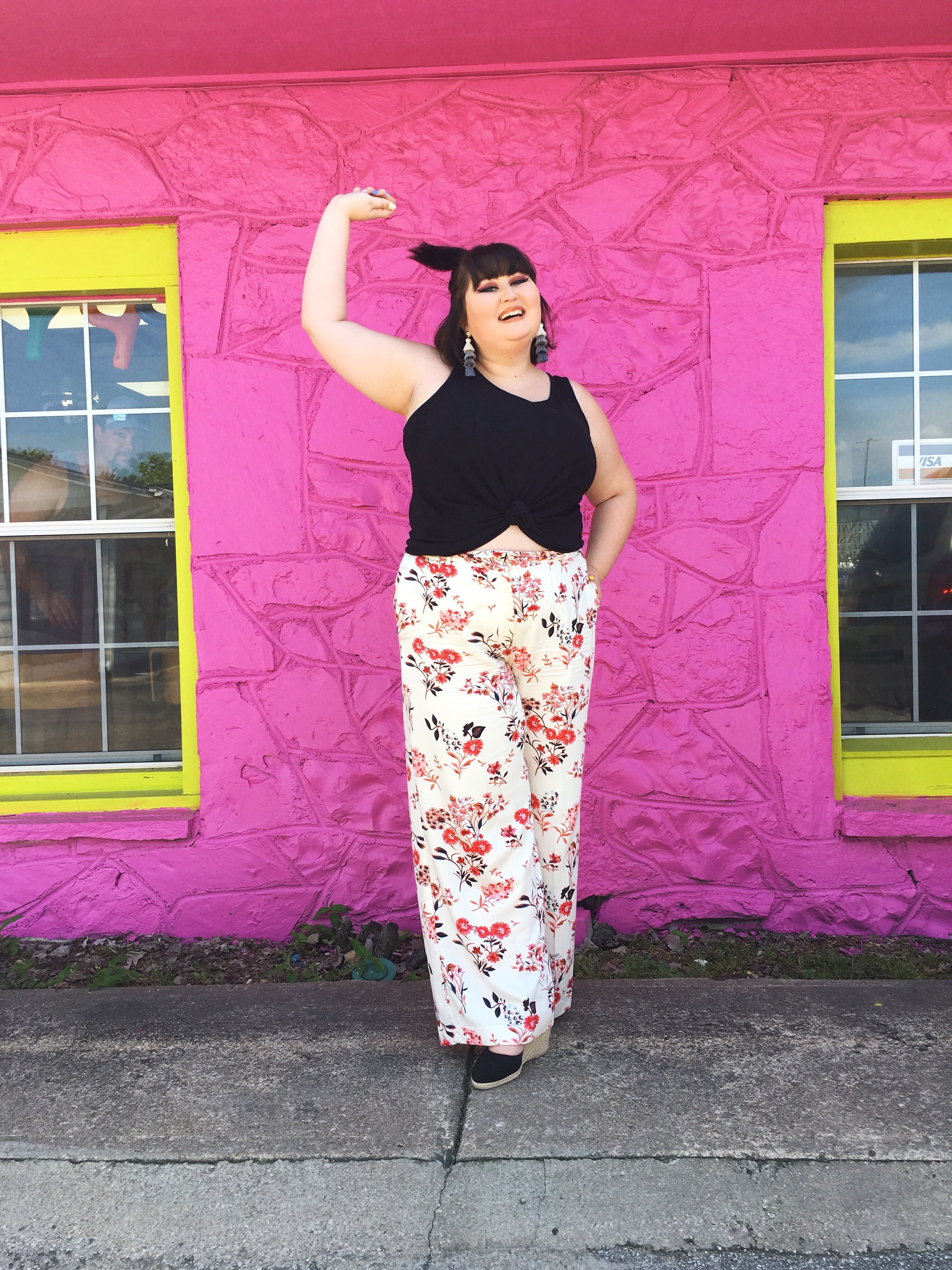 Dressing it down: When wearing wide legged pants, the best and most flattering thing to pair them with is a form fitting top. I ended up tying up this tank top to add a more relaxed and causal vibe and to also show a little bit more of my waist. I added some height with these espadrille wedges, because lets face it, these pants are too long to wear with flats. And again, I just love pairing blazers with chunky sneakers and a graphic tee, and when you add a pair of distressed denim shorts it becomes the perfect casual spring look!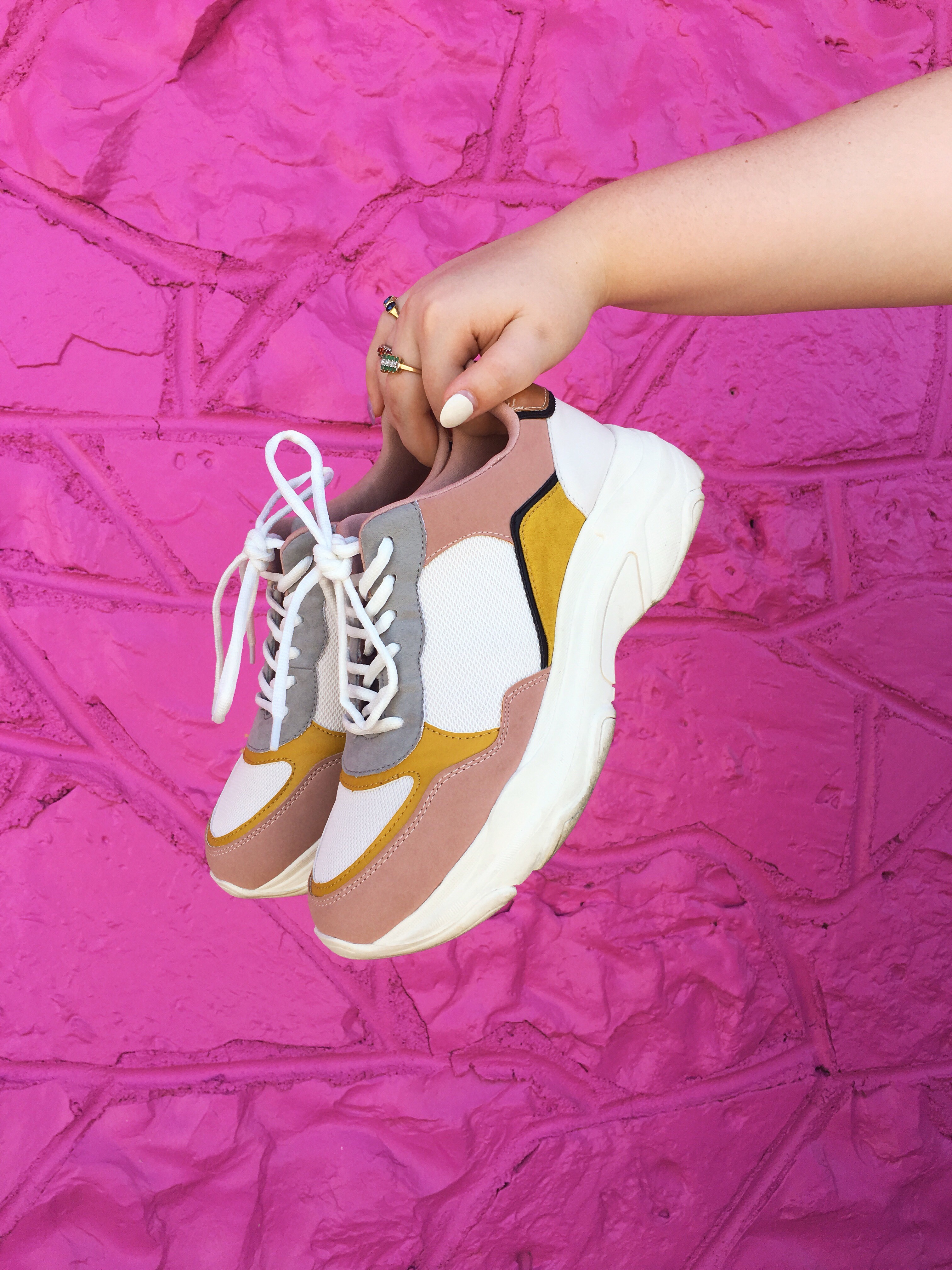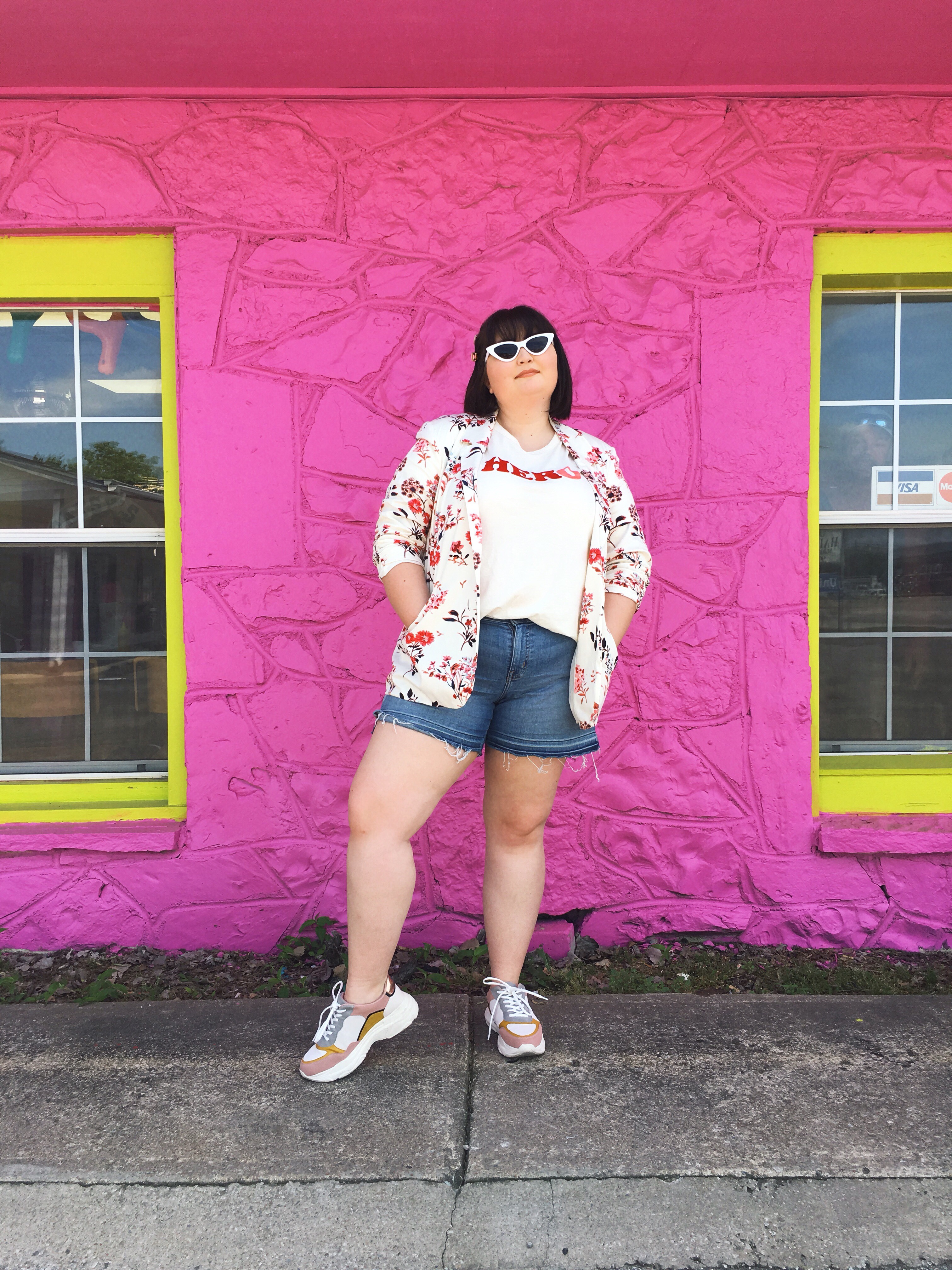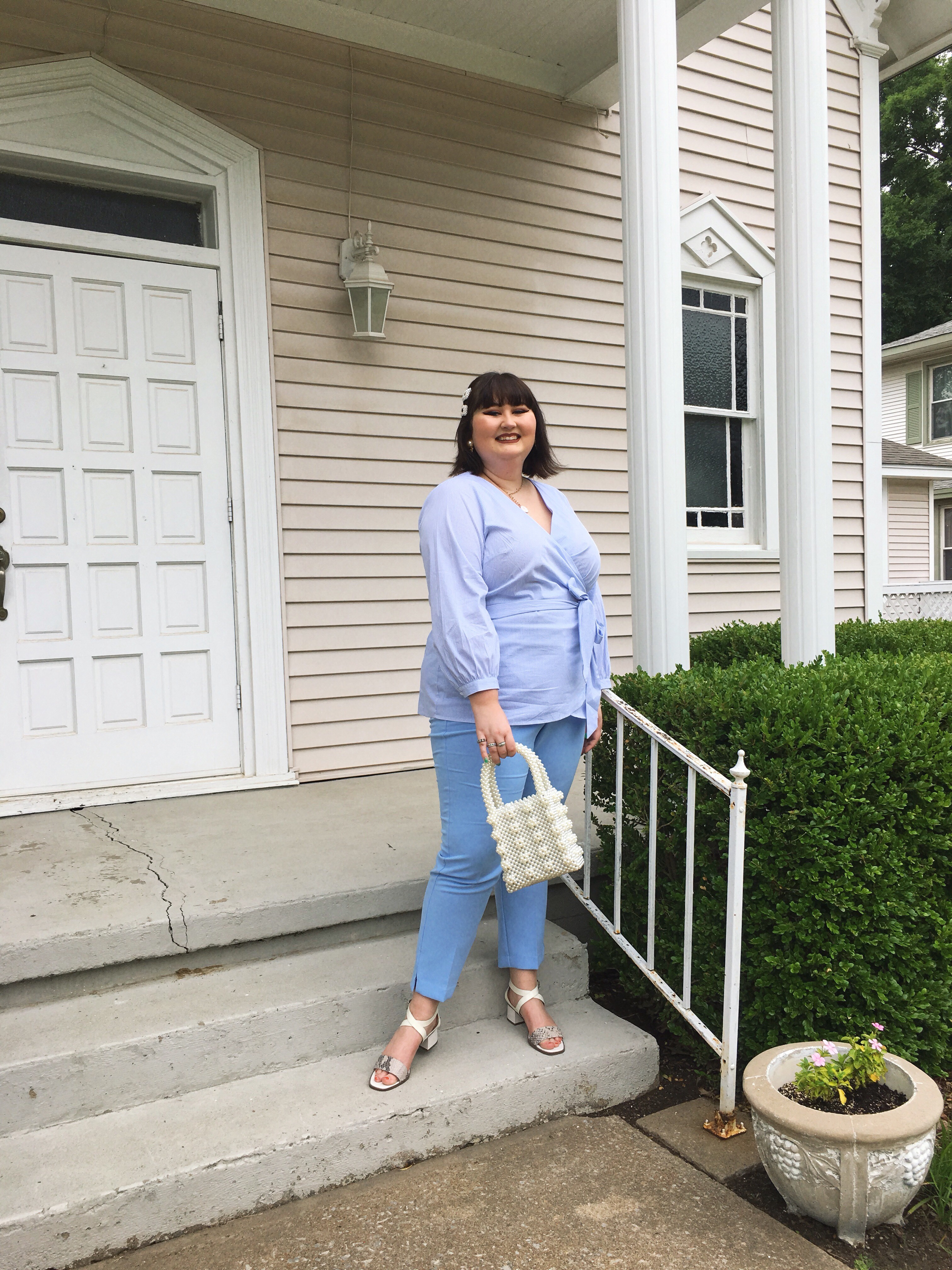 Dressing it up: My tips for dressing up suit separates is basically the same for a full suit: stick to a color palette. I wore a blue and white gingham wrap top with these baby blue pants, and I think the colors work so well together. I completed the look with dainty and feminine accessories in none other than white to go with the shirt. In contrast to that, I decided to do something a little unexpected and change up a classic little black dress with this structured blue blazer. I think it completely changes up the look and adds a whole other element of color. And the hair clips add a nice touch.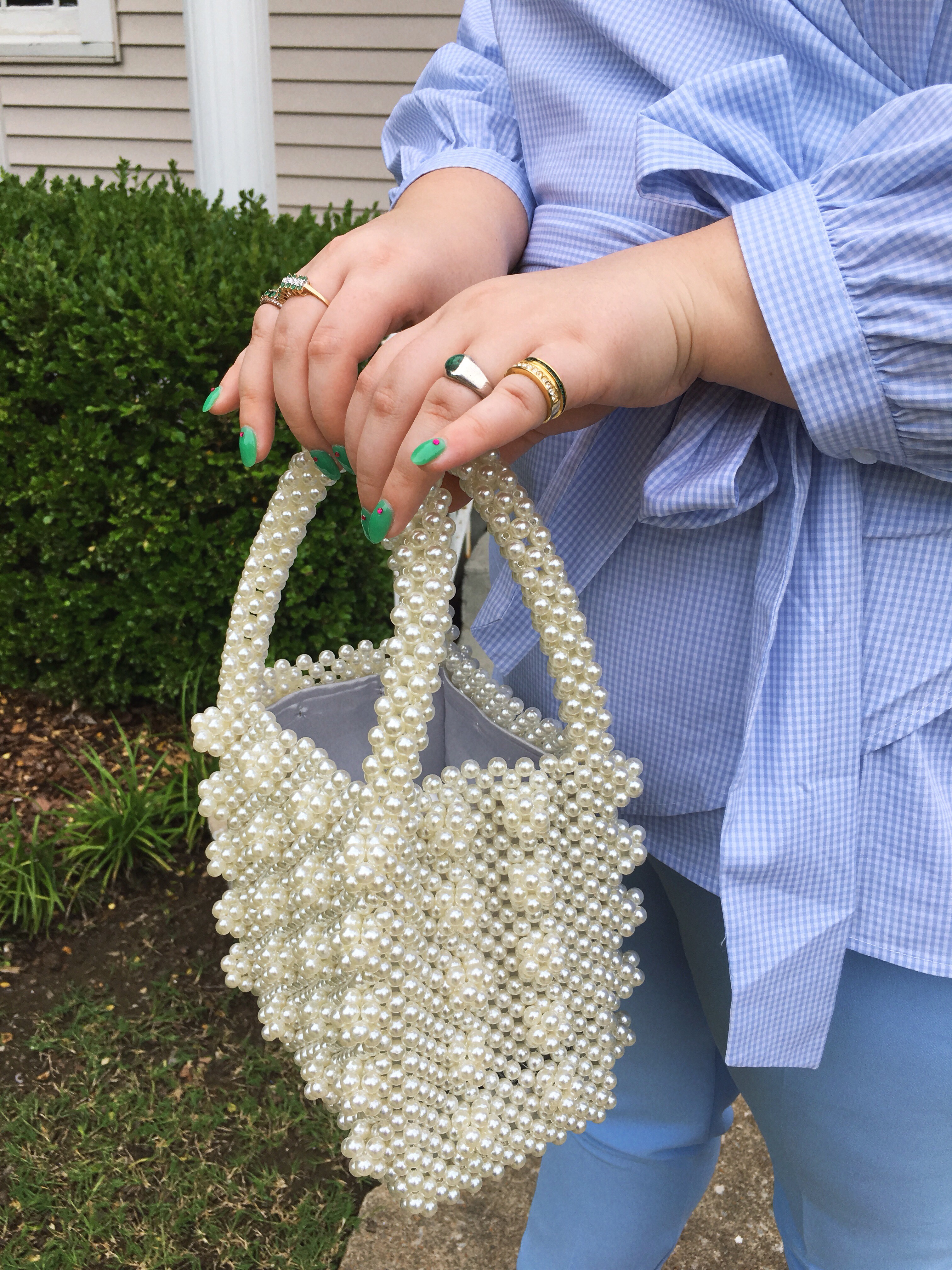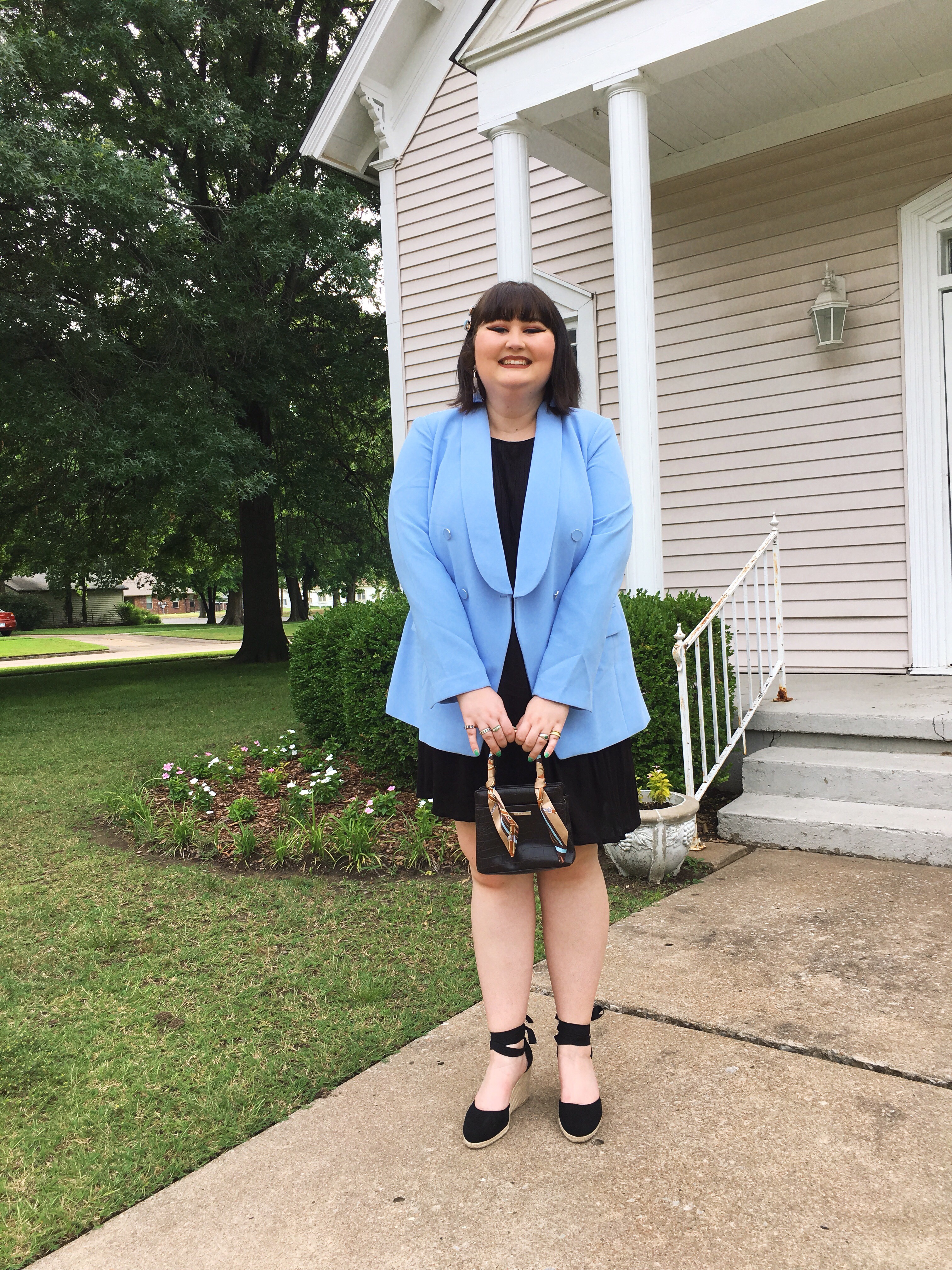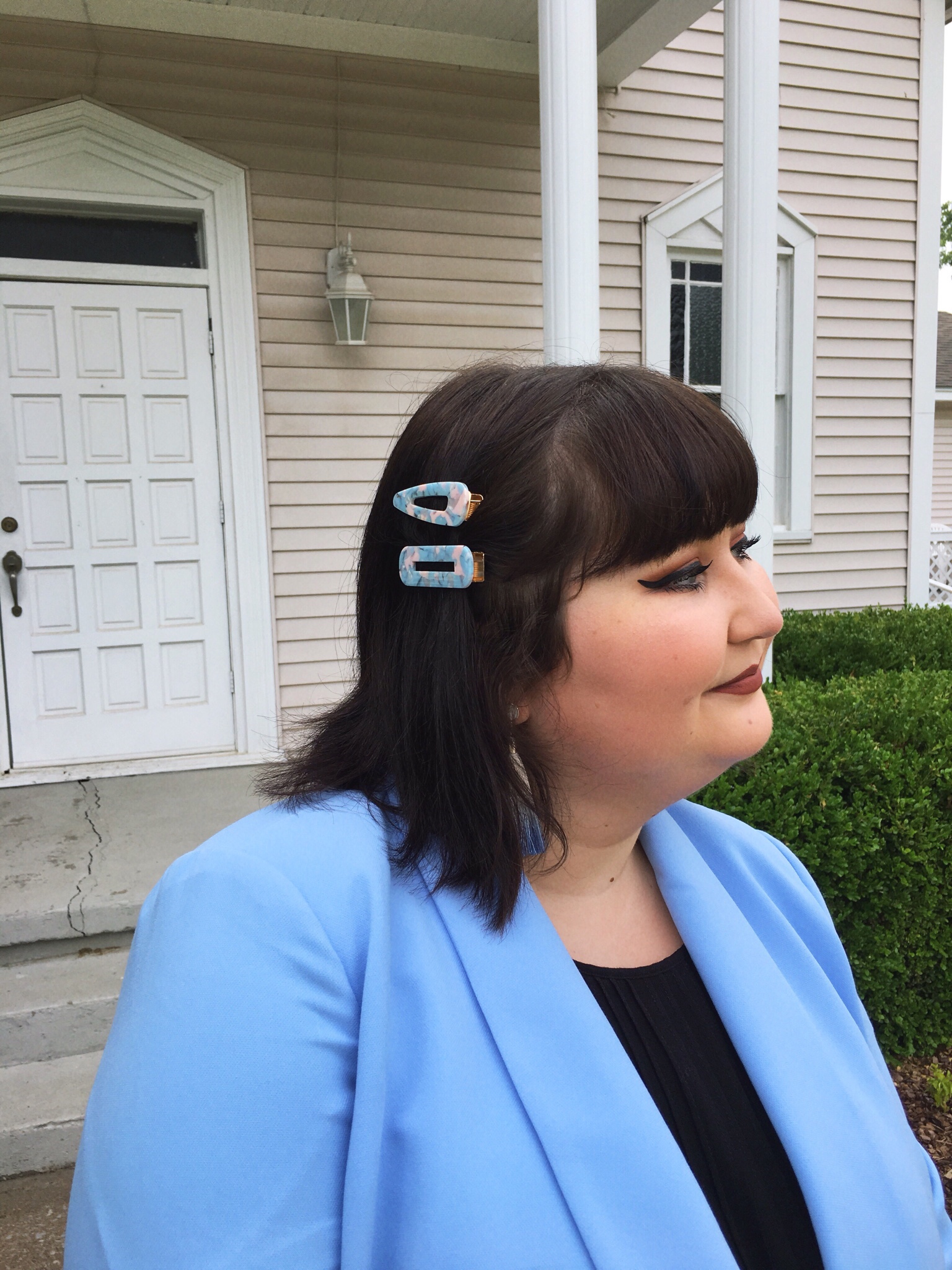 Well there you have it! Those are my tips on how to make a two piece suit versatile for any wardrobe. Honestly, you can apply this to any matching set, or something that you think might be too much of a statement piece, to make it more applicable to your life and your style. I know that I am 100% on the suit train, and I don't plan on getting off any time soon!
Love, Kendall